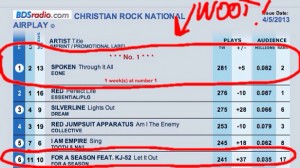 Yeah, it's been forever since I've done one of these.  Time to catch up people…'cause there's a Numero Uno position held by Spoken's single "Through It All" on the Radio & Records Christian Rock Chart.  See, that's fun, because I mastered it, and it kinda seriously rocks.  Also fun is the little app to make the little circles over there.  Fancy.  I know.  You may also notice that For A Season are climbing the chart there too, up to 6 for 11.  There's some happy dudes.  What would this post be without a complete rundown?  Shorter.  I know.  It won't hurt much.
On the Christian AC Radio Chart…
#4 "Redeemed" from Big Daddy Weave (Also on the CHR Chart)
#14 "Good To Be Alive" from Jason Gray – 41 weeks on that chart!
#15 "Strangely Dim" From Francesca Battistelli (This one's on the CHR Chart too)
On the Soft AC, we've got Francesca AGAIN with her "Strangely Dim" at #8, and Jason Gray's "Nothing Is Wasted" bringin' it all home at #18.  Fun times.  Lots of good songs.  Hope ya like 'em.
Have a great weekend everybody!