I've had a pretty hectic couple of weeks, filled with Christmas crooning, dance beat pounding, punk rock shredding and some earthy indie stuff occupying my days.  So I've not been up on the charts.  The time to rectify that is right…now.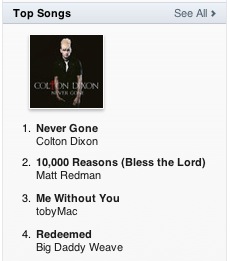 So what have we here?
It seems that Big Daddy Weave have the #4 spot on the iTunes Christian & Gospel Chart.  That's fun.  This song and album have been around for a long time.  Congrats to them for some nice longevity.  It's great when a song catches people so widely.
The Radio & Records Christian AC National Air Play Chart
BIG DADDY WEAVE "Redeemed" FERVENT/WORD-CURB (at #5, look at 'em go!)
JASON GRAY – "Good To Be Alive"
From the nicest people in the world at CENTRICITY.  Seriously.  If you haven't heard this song, go find it.  It'll make ya feel pretty awesome.
PETER FURLER – "I'm Alive"
How about the CHR Chart?  Wanna see what's on that?
REMEDY DRIVE – "Better Than Life" CENTRICITY (So there are a few versions of it out there.  I mastered at least one of them.  I'm taking it)
PETER FURLER – "I'm Alive"   SPARROW/EMI CMG
The Christian Rock Chart.  Where the kick drums are.
ASHES REMAIN – "Unbroken" FAIR TRADE SPARROW/EMI CMG
WORTH DYING FOR – "You're Alive" AMMUNITION
The ChristianRock.net Chart…I've got a few there too.
MATT MOORE – "Fading Fast" – Dude has been on there forever.
ASHES REMAIN – "Unbroken" – them too.  On the charts forever.  Love that record too.
Wanna get some goodness put on your tunes?  Mayhaps you should click an email thing and get some time booked.  It'd be good for ya.